A Better Frame of Reference
   … see your child in a new light
New!  mp3 Download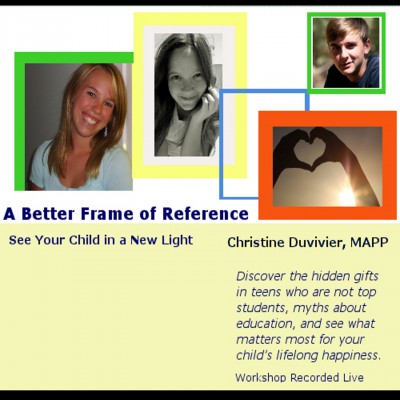 Behind the issues facing your child today are the very factors that will lead to success tomorrow.  Increase the level of dynamic, creative alignment in your household and feel the relief of seeing your child's true promise.     Learn to:
Recognize gifts and strengths that may not be amplified in the classroom.  Discover how to recognize the gifts and future potential in the majority of teens– those who are not A students.
Explore the paths of great leaders who had great school challenges.  The challenges facing your child today—when put into the right framework—will be seen as the very factors that lead to success tomorrow.
Rethink the 3 myths that harm us all and replace them with 3 truths for thriving in life.  Learn why academic success is not a precursor to our children's future.  See how our approach can disconnect our children from their unique gifts – and how to give ourselves and our families fresh hope.